I've been out of the Warhammer game for over 15 years at the time of me writing this article. I have however continued reading the books, and tried to keep up to date with the lore – but being the massive universe that it is, it's a challenge just to keep up with the basics.
When I found myself with some more free time between work, iI'd already decided on one thing I wanted to do – get back into Warhammer. 
Playing Warhammer when you're a teen can be tricky. First of all, Warhammer can be a very expensive hobby to participate in – at least insofar as the tabletop miniature game goes. As a teen, you usually don't have the financial means to collect, play or engage in the hobby to the extent that you might want to. This could be the reason why the game did not gain as much traction to become a mainstream IP until the last two decades which have now made it one of the biggest gaming franchises in history. 
As an adult, however, while you usually have the financial means, you may lack the time needed to fully invest yourself in your Warhammer hobby or have the required spaces to host the battles. When I started my hobby back up again, I knew I had to moderate my expectations. While I could buy all the models and supplies I wanted, I knew that it would take significant time to paint them to a standard I'd be satisfied with. A long project, as it were.
Still, despite it being a long project, I believe there are reasons why you as a gamer, as a hobbyist, a sci-fi/fantasy enthusiast, should want to play or engage in the massively interesting hobby that is Warhammer – and in this case, specifically, Warhammer 40k.
In this article, I'm going to plead my case if you will – and also mention some of the cons and arguments of why you maybe would want to consider not getting into the hobby.
The game
Warhammer/Warhammer 40k is a miniatures war game that's mainly aimed at a demographic of 15-50 years old – most of them male though their big boom in the late 80\s and early 90's saw it grow in popularity with younger players as well, as young as 12-13 in some instances. The company that makes the game, Games Workshop, was founded 40 years ago in the UK and has since then become a company valued in the billions. While other toy companies are failing, and people are losing interest in many physical toys as opposed to digital ones, Warhammer and Warhammer 40k is thriving in ways it never has before. Aside from an resurgence in tabletop/classic gaming overall, Warhammer is thriving even more and growing its fanbase.
How can this be?
1. The Setting/Universe & Peripheral lore products
The detailed setting of, in particular, Warhammer 40,000 is a rich setting filled with literally hundreds of novels/books, and tens of thousands of hours worth of lore, content, artwork, audiobooks, and products to feast on. The Warhammer 40,000 universe makes almost every other setting appear underdeveloped by comparison. Star Trek is a joke when holding the details and attention paid to the universe Games Workshop have nurtured for decades. Star Wars may be fleshed out well in some ways – if you include comics and novels – but Warhammer dwarves their catalogue. Dungeons & Dragons isn't a setting in itself, and Warhammer 40k easily eclipses popular settings like Faerûn and Eberron. The Warhammer 40,000 lore is bigger than Star Trek and Star Wars combined. 
I'll go so far as to say that no setting is as well-fleshed out as is Warhammer 40,000 (just my opinion, crucify me in the comments if you must!). While Warhammer fantasy (or AoC) has a well-thought-out setting, the background pales next to what exists for 40,000, which is one of the reasons you find more people leaning towards 40k rather than AoC. That, and how Space Marines have always appeared cooler to boys and were designed and marketed in that way.
The backstory and lore is rich, and it's easy to get caught up in it – at least how I see it. The peripheral lore, books, and settings that go with it make it one of the deepest settings in existence, in my opinion. Certain settings aren't that interesting to get into if you're not engaged in the playing of the game but nonetheless the settings are there. In my opinion, the Warhammer 40,000 universe by itself is good enough to captivate, even if you don't play the miniature game with its dystopian and dark futuristic narrative.
2. The models
How the models look is a big part of the success of the game – and the fact that the company employs, and holds a competition for master miniature painters to achieve results like above, and showing players what they could do, is a big part of the popularity of the game and why it has maintained a steady player base.
3. More than a game – Games Workshop knows its stuff
Do it the way you want to.
Warhammer 40,000 is:
A miniatures game.
A tournament game
A painting/collecting hobby
Books/Audiobooks/Comics
Computer games
The fact is, Games Workshop has done a masterful job of creating what is essentially crack for the middle-class nerd with disposable income, and a hobby that younger nerds look to and may want to play or just awe at in store displays. It hasn't always been this way for the company –  over a decade ago, it was in a slump and it seemed doubtful whether the business would survive or not. 
However, leadership adjusted, the company grew, invested, and expanded, and now we're looking at a company that essentially "owns" both its setting rights, the production supply of miniatures, the books and everything having to do with Warhammer itself.
And they're executing their plan to get people involved in a masterful way while making impressive profits.
These, I believe, are some of the main reasons why Warhammer is so successful.
However, why should you play the game? Why should you get into, or take an interest in the massive setting that is Warhammer? Here, I'm going to be talking mainly about the miniatures game – but many of the arguments can be used for the books or peripheral products as well.
Let's take things point by point – Why you should play Warhammer.
1. Increases Attention Span & decision-making skills, patience, and Fine motor skills
Working with Warhammer miniatures can be a mundane and grueling task to some. The detail required in assembling and painting the things will test your patience, fine motor skills, and attention span. Good results here will depend on your ability to handle both fine tasks, and repetitive tasks – any of these things are valuable skills both inside Warhammer 40k  and in the real world. This point is of course not unique to WH40k, but other miniature games may not have the same combination of media, or the wealth that Warhammer offers to players. 
Simply working with the miniatures and doing your best to assemble and prepare them in a way that's attractive will improve the skills you have.
2. Actual practice of skills, such as math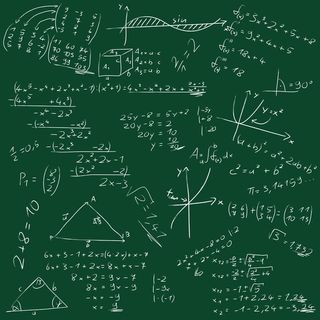 Actually playing with the figures will require different skill sets. The measuring, memorization, and the sheer amount of rules to remember, dice rolls in the dozens, and to quickly crunch relatively simple algebra will still offer opportunities to improve such skills while playing a game. This differs markedly from playing the same game online or digitally, which to me is a huge bonus.
Depending on what level you play the game – everything from casual to tournaments – it will tax different levels of your strategic thinking and other, related skills, all of which are transferrable to the real world as well. In the end, playing a game like Warhammer brings with it many of the same boons we see in playing sports (although the physical exercise won't be all that significant here).
For this reason alone, it could be an argument to play strategic board games, even if you don't play Warhammer.
3. A community spanning several age groups/categories and exists in most places

Few communities for board and miniature games rival that of Warhammer. The community is global, with clubs even in mid-sized towns, and the hobby popular in many European countries and the US. You'll usually (outside of Covid-19) have a relatively easy time finding people to enjoy your hobby with.
What's more, these people will typically be of all ages and many different backgrounds. Now being nearly 40 years old, many of the people who began playing are in their 40's or 50's now, with many of them still playing the game to some extent. It's always a great hobby, and a great outlet, when people of all age groups can enjoy the same hobby and get together in the same setting.
Overall, the community which can bring people together is another reason in favor of Warhammer.
4. An artistic hobby & creative outlet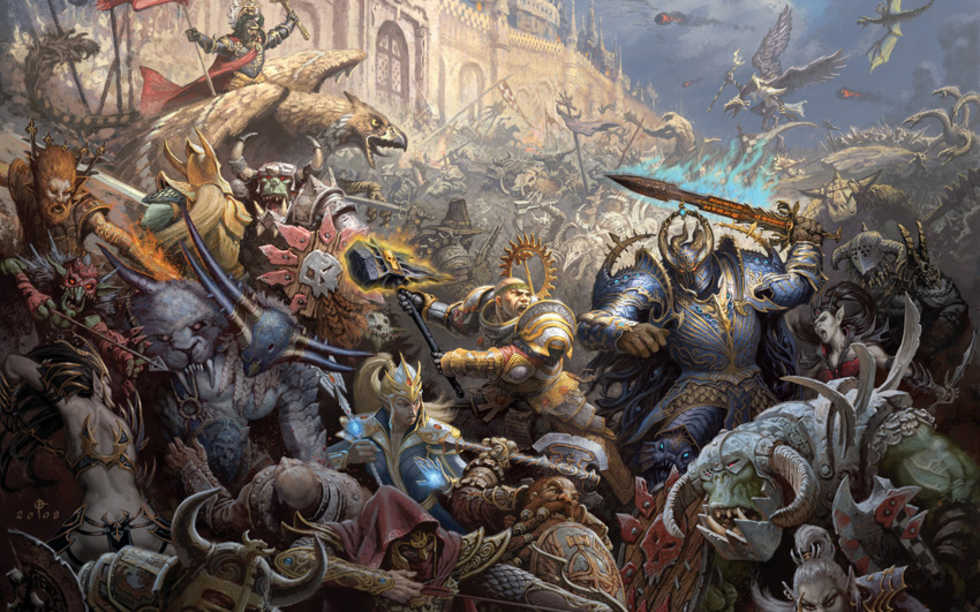 Obviously, working with Warhammer will cater to your creative side. The painting, the modeling, the building of your army – all of it works to encourage your fantasy and imagination. You can play the way you want, model your army the way you want. The rules even have support for creating your own specialized army setups, and the company actively works with you if you want to customize your models further, providing details and tools for you to do so.
Warhammer is like lego for adults – your imagination, not much else, sets the limitations here.
5. A non-digital hobby in a digital age
In an ever-increasing digital age with our children and friends spending more and more time in front of screens, I view it as important to encourage hobbies that take us away from the digital world and the screens. While parts of Warhammer can be made easier through the use of modern technology, it is the low tech of the board game that I find appealing here.
I believe it crucial that we spend more time with each other – not through screens and digital media, but around a table, or in groups, engaging in socializing, games, thinking, and just plain fun. Warhammer is a hobby that offers all of these things and offers it to all demographics and categories of people.
6. It's just fun.
Playing the game is just plain fun. I play an Imperial Fist army in the 40k universe and setting my majestic, sun-yellow warriors of terra against a Xenos horde or the traitor Astartes is always a fun time. Strategizing and trying to outthink, outflank and use my resources better than my opponent. Cheering the dice rolls when they go my way, and cursing them when they do not. Build amazing battlefields that we can play, and enjoy.
All of it is great fun – and this is the main reason the game should be played and enjoyed. A hobby that wasn't fun, or this much fun, I would spend neither the time nor the money on.
7. You will be constantly challenged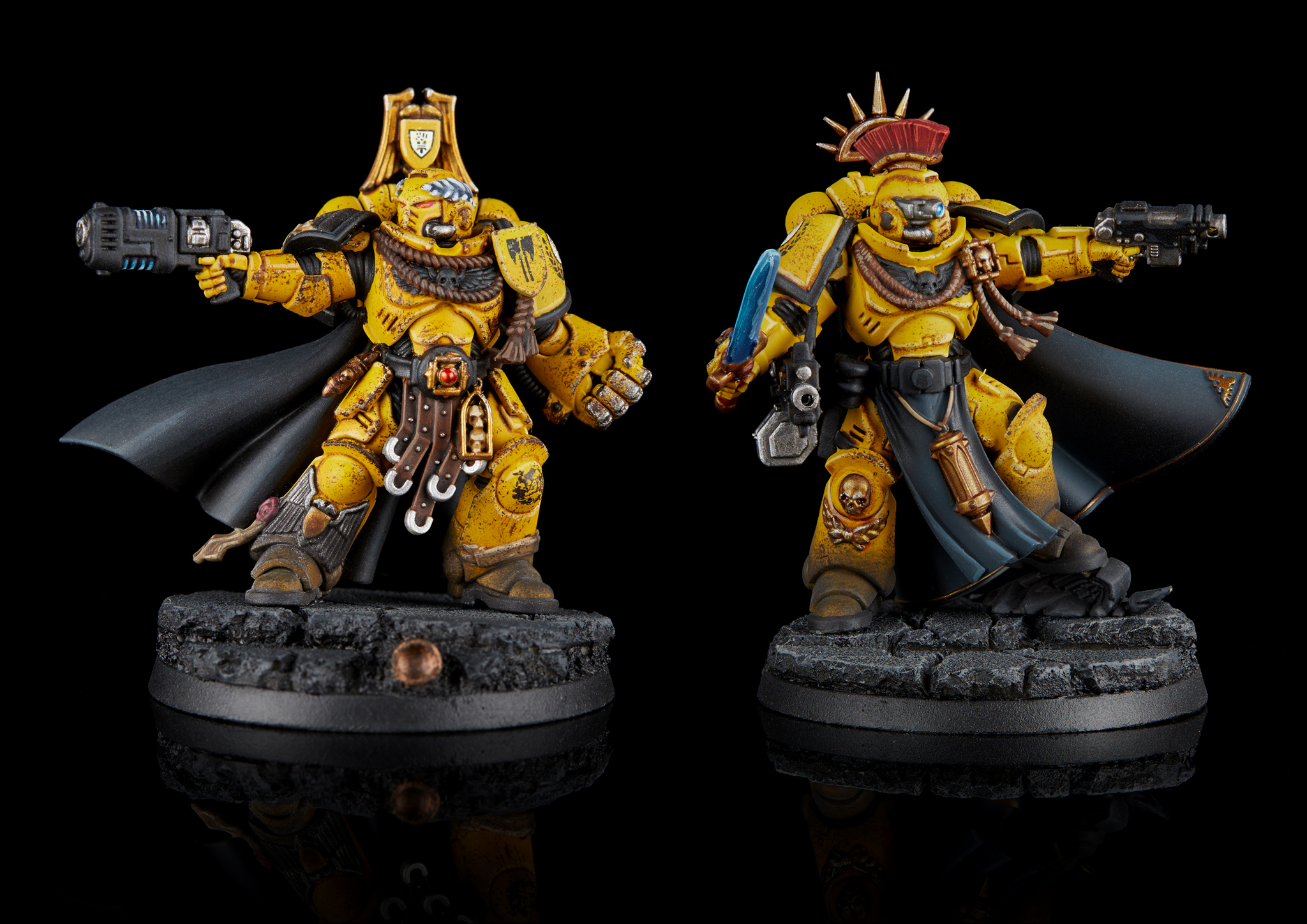 You can expect a constant challenge when playing Warhammer. The rulebook alone is several hundred pages long, and scenarios will always bring up questions regarding situations, or how to interpret the rules or how to make something as fun as possible. This is not even mentioning the challenge you will find yourself in if you start looking at tournament play, which is of course an entirely different ballgame.
I myself haven't always enjoyed being challenged – but everything from the assembling and painting to the playing is a challenging endeavor with Warhammer and in a very good way. That's also a reason why I find playing Warhammer to be worth my time.
The flip side
Like with any hobby, there are downsides to Warhammer as well. It wouldn't be a balanced nor even an attempt at an objective piece without getting into the cons of the game, and the hobby.
I'm going to keep it simple here, however, as I really believe it is a quite simple side of cons.
There are two main reasons why you should consider not getting into at least the miniatures side of the game.
1. The cost
Games Workshop has made certain that if you want to play Warhammer, they'll get your money somehow. It doesn't really matter to what extent – if you want the miniatures, the paints and supplies, the books, the peripheral products, everything is priced accordingly and for many can add up to a kings ransom for something which is designed to get you hooked. Warhammer is miniatures war game and your units determine the strength and scope of your attacks and nobody wants to be the guy who shows up with 4 infantry men against an armored cavalry. 
While the company has of course spent billions (likely) to perfect its manufacturing techniques, it does hurt to pay $80 for less than a pound of plastic pieces that come in the shape of a space marine chapter master.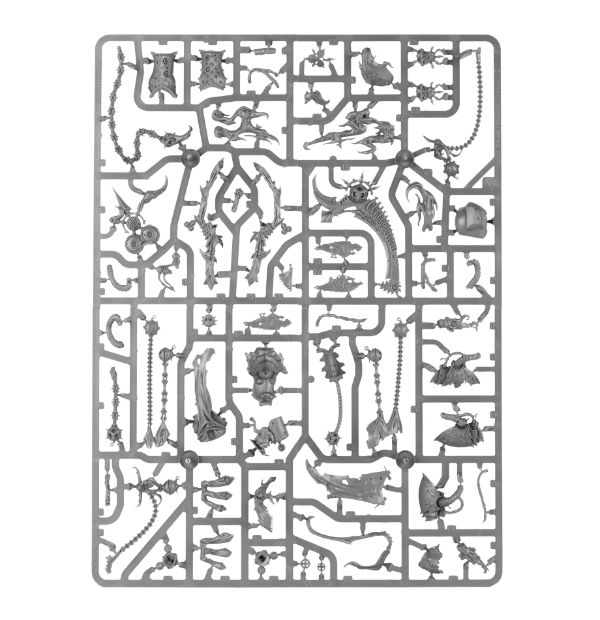 Even the main troops aren't exactly cheap. Running a 1000 point army will quickly push the price tag above $200. Include the supplies you need for painting, and if you want the company's paints, that bill goes above $400. With rulebooks, sets of things that you, strictly speaking, do need to enjoy the game, very few people can properly start the hobby below $500.
Most spend far, far more.
To some, and certainly to most kids, this is prohibitively expensive. There are of course ways to cut the costs through package deals and similar things, but the fact is – this stuff looks good, and it costs even more. The end results may be very impressive, but getting there will take heavy, bloody chunks out of your wallet.
Don't listen to anyone telling you that you can start "on the cheap". Warhammer is an expensive hobby, and if you get into it, you'll find yourself either spending a lot of money or cursing yourself that you don't have the money to spend.
2. The time dedication
Secondly, Warhammer takes time. This is less of a problem for many people, but it may be a problem to some. Not everyone has the time to spend dozens and hours (and it will take dozens) to prepare an entire army. The games usually take between 2-4 hours depending on size, which is something that for many people still can be handled – but you do need to realize that the game will take some of your time if you get into it – and if you decide that you like it, it'll take a lot of time.
Therefore, the ideal player for Warhammer that I see, is someone with a decent job, some disposable income, and plenty of time on their hands. That's a slim group, so most of us have to make do with some shortcoming in this list – but it's usually something that we can work around.
3. The Nature of Miniatures Game
With more alternatives Games Workshop has managed to adapt to the industry but it is not the miniatures alone that are lining their koffers, moreso it is the IP which has been licensed out for anything from mobiles games to remastered pc games. Miniature games are focused on collecting units and going to war with your opponent and mobile pvp can provide that for far less of a time and money invesment.
There is no story to speak of as you are in a skirmish or conflict opposed to a campaign where you see narratives and plotlines unfold. You do not level up rather you buy stronger units and this mode of play is not for everyone especially if you are the kind of person who dislikes pay to play games or do not have the time and resources. Miniature games are linear and are a time investment when playing similar to tabletop rpgs but whereas D&D is a social, cooperative and collaborative experience Warhammer on the other hand is competitive and does not have as many players.
In the end, nothing should really stop you from enjoying the hobby if it's something you find that's to your liking other than finances.
To play or not to play Warhammer? I see it as an easy choice, at least for myself. I love the game, I love the setting, I love the lore, I have a great job and I'll be playing and enjoying the game for many years to come.
I hope to see you around, fielding your own armies, and that we will meet in joyous battle (or alliance) one day.