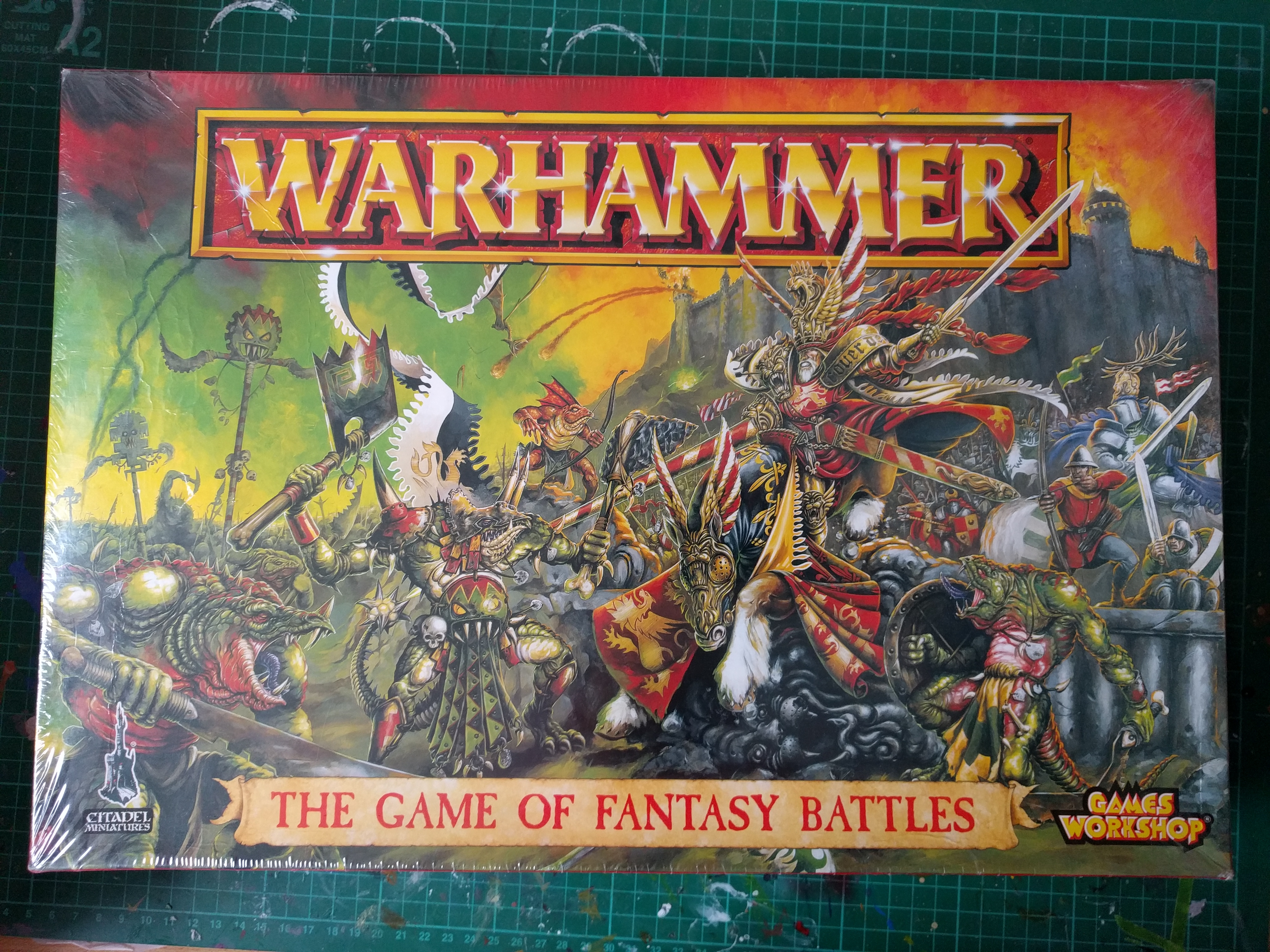 It was the year 1998, the author of this text was in his late teens and admittedly a bigger geek then I am now if that is even humanly possible.
My friends and I had been playing D&D from the very beginnings and as a group we have been hardcore gamers, but D&D to us was a system that was just missing something, we could not quite put our finger on it, but as we understand it now we were missing gritty reality and logic.
While playing D&D at later levels, talking 12th and up, any character could basically walk into a village, kill every single person there and leave without so much as scratch on them! So things like that happened a few times in our playgroup before we disbanded until we could find a punishing enough system that would prevent stuff like that from even the most advanced level players.
We explored and read a lot and my friend and I found an article on (god damn I feel so old for remembering) Alta Vista(for those of you who don't know what it is, its basically something like Google but way more primitive) about Warhammer: Fantasy Battles. It was a game of heroes and armies clashing on the field of battle, where 2+ players each commanded their own little or big army as we would later discover and beat each other senseless for bragging rights and a pint of beer, or if you played seriously on the tournament scene you could win some nice expensive Warhammer figurines and accessories like paint stations and professional style airbrushes.
In August 1998 the very first box of Warhammer: Fantasy Battles 5th edition arrived in Split, Croatia and my entire crew gathered to see what was in the beautifully painted box which sported a knight in full plate armor on a warhorse charging some sort of lizard like creature.
The suspense was crazy and we were all giggling like schoolgirls, and then we opened the box, it was full of unpainted and un-assembled models of knights, archers, lizardfolk, and sported 2 phenomenal looking heroes/champions for each army.
It also contained a phenomenal rule-book with loads of rules for almost any situation that could occur during the game itself and incredible Gothic looking artwork which we all fell in love with at first sight.
While some people felt underwhelmed and a bit disappointed, most of us including me saw huge potential in Warhammer. I saw endless possibilities for customization and making your own unique army and heroes, which could possibly be used in other gaming systems not just in Warhammer.
Now that we had the actual game it was but the the beginning of the love that would mark the next 20 or so years of my life.
We would all now have to chose an army to represent us best on the battlefield, it would define the way you build your army,  the way you play and what were the strengths and weaknesses of your particular army.
As a group we all picked what we felt most comfortable with.
The Vampire Counts with their incredible necromantic magic that could make entire units of skeletons appear on the battlefield.
The High Elves with their fast moving infantry and cavalry paired with their Mages that could wreak havoc on enemies.
The Empire ,a human faction with  heavily armored knights and heavy artillery like cannons and mortars to back them up and mostly used infantry as cannon fodder and something to be sacrificed to achieve victory at any cost.
The Dark Elves and their specialist units which were lightning quick while their heroes were ferocious in up close melee combat.
The Wood Elves as absolute kings of shooting with their longbows which had extra range and extra power, and the best scout units in the game.
 The Brettonians as a human faction which could be best described as feudal french knights mixed with crusaders and peasants as backup units which provided numbers while their fantastic cavalry did heavy hitting.
The Skaven a race of mutant ratfolk which use unstable magics and fight in huge numbers while supported with a form of close combat magics and semi/mechanical shooting which were hugely unreliable but when they did work  it proved absolutely devastating for the enemy.
The Warriors of Chaos a semi human demon faction wielding insanely powerful magic, which were the ultimate bad guys in the Warhammer world.
The Dwarfs a  reliable army of heavy armored infantry that could withstand almost any charge and strike back with good measure, backed up with some of the most devastating shooting units in the game and very decent protective magic.
And the last but certainly not least, my own favorite faction
The Orcs and Goblins   purely for practical reasons cause nobody else wanted them, I took them as my favorite and never regretted it for a millisecond.
It was an army of monsters, giants, trolls, goblins and orcs which lived in a mostly nomadic tribes and while they had huge numbers they were primitive and their magic was unreliable. When it did hit  it was absolutely devastating and while orcs were huge lumbering brutes that relied on pure strength, goblins were sneaky and devious so with those 2 combined were for me a match made in heaven.
And so we all began collecting and painting our armies, gathering for gaming and painting sessions that would last for entire weekends, I personally remember a couple where my folks asked me "Have you guys eaten anything in the last 2 days?" we would paint and play for hours, the game was to us so immersive and so gritty and real that we had people including me (actually, especially me) have nerd rages for rolling bad and having our heroes killed by sheer bad luck. To most of us it was the best representation of tabletop conflict we have ever seen, and we loved every second of it, because even if you lost, there was a sense of dramatic achievements when you told how your mage wiped out an entire enemy unit when his spell failed (yes it was actually quite possible for a spell to fail and do devastating damage to both friends and foes alike).
We loved the unforgiving nature of the game which made you think of it like chess but with six sided dice included, mistakes on the battlefield were severely punished and your units could quite easily be wiped out by much inferior opponents just because you left your flank or rear open and vulnerable to attack. It was unlike anything we ever played before, in D&D you could resurrect your fallen comrade, in Warhmmer if a Lord/Hero/Mage died it was a huge deal and most armies suffered greatly with a loss of such a huge point investment and lack of leadership.
Warhammer as a game itself has many extensive rules, most of which I will not mention in this text, cause I'm writing an article not a 450 page book, but I do need to mention the game has complex character stats and quite a few of them for each model/character and the better your stats the more points the model costs and each game is played with an agreed number of points, for tournaments it was considered that 2000 point games were most balanced but most playgroups played anything from 500 point skirmishes to 5000 grand battles.
The game itself developed and my group played all editions of the game, however instead of making progress, it is my firm opinion that the game was at its peak during 6th edition which was the most balanced and started deteriorating from there, instead of fixing the minor issues of the game Games Workshop made 7th edition which was somewhat an improved version of the 7th but it reduced and gimped a lot of armies because it reduced the number of race specific magical items doing away with the uniqueness of armies,instead of listening to their player base Games Workshop messed up big time, we thought OK, we can adapt its not 6th but its still playable.
After 7th edition was released followed by the semi disastrous and final installment of Warhammer: Fantasy Battles the 8th edition, while it added some great stuff, like advantage for fighting in large units the so called horde units, it absolutely killed cavalry and mobility and made all armies a copy paste of each other which huge infantry units charging frontally into each other. It seemed to us older players that the game was so stupidly simplified that even preschool children could play it, and we were pretty pissed off.  The number of race specific magical items was almost nonexistent, everything was  incredibly streamlined and we were all disappointed and incredibly angry to the point that some people actually quit playing all together after reading the rulebook.
It was a sad time, we were friends who shared an interest but this tore our group apart, nobody wanted to play with these stupidly simplified rule set, we felt like the huge effort and not to mention a really large money investment was taken from us because developers were morons who did not listen to their player base! Games Workshop wanted to make more money but they failed to realize that you can't make such drastic changes without alienating and antagonizing longtime customers and supporters of you previous iterations.
It felt like they cheated us old players in favor of new kids and we were pissed off, I believe we had every right to be.
Warhammer: Fantasy Battles no longer exists as a game system, it is replaced by a stupidly simplified game called Age of Sigmar, which while undoubtedly fun to play has no where near the complexity of the game I loved to play which has reduced the number off stats and characters become 1 man armies that decide combat results, while in previous editions it was all about the positioning of your units making the right charge at the right time. Now it is all about who has a bigger sword on a bigger lord class character which is too simple, non complex and for this reason is NOT in the true spirit of Warhammer!!!
It makes me sad and happy at the same time that a group of enthusiasts made an unofficial Warhammer game called the 9th Age but, its not officially endorsed by Games Workshop unfortunately.
This was my experience with Warhammer: Fantasy Battles a game that has given me great joy and a lot of fun memories. It made me a lot of friends and it saddens me that it no longer exists as something I loved to play but as something completely different, that greed and corporate money grabbing destroyed what was once of the greatest tabletop war game of all time.
I hope you enjoyed my debut article for Nerd Dimension and look forward to reading you feedback in the comments. Remember to rate, comment and subscribe to our Facebook page and Podcast to stay in the loop as we upload new content.